NEW PROMOTION!!!
I feel like yelling thus.
Sewing PHOBIA has a new Promotion! So do take a look over at sewingPHOBIA.blogspot.com!
Just to mention, for week 1 of April, there is a 10% discount to all the white dominant instocks apparels. That means, if the colour of the apparel is in white, you get a 10% off the apparel. Because under the category there is a most beautiful piece .... I just happen to saw it this week on my shopping trip (one of the many.... -0__0- I spent too much!!!!) and I was thinking, "MAN, This is the piece we are selling off in our blogshop!"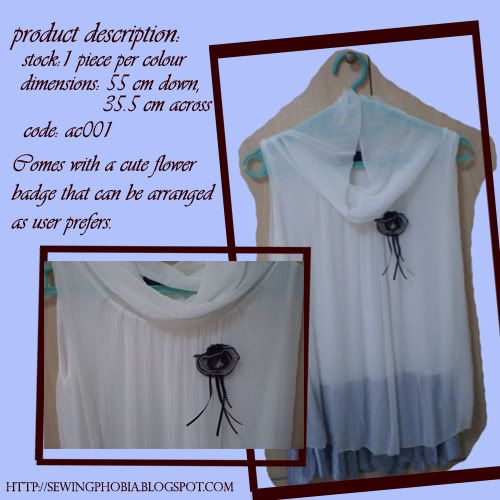 The shop had placed that piece together with a leather jacket, and WOW! It looked really wonderful! It looked even better than the magazine picture that showed the model wearing it with jeans.... now, that is the effect of the leather jacket. I have to admit it, that particular piece is one of those that will mix really well with a leather jacket. It's a pity I had not noticed it earlier.
I am a fair person. I am not going to buy it off just because it is going to be on discount now you know... or I know another person will complain.... (that is the one who stopped me from buying from our blogshop... yes, the other owner!)